​​​​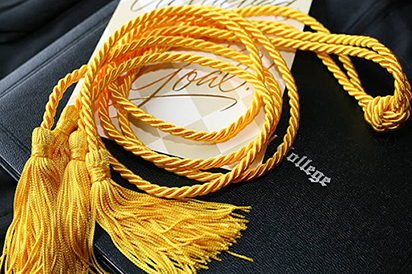 The Honors Program provides a challenging curriculum designed specifically for the Honor Student.
This program provides HSSA students the option of working with a distinguished Faculty member on a challenging Honors Contract for a transferable level course, along with the achievement of the Honors status on the academic transcript.
Qualifications
To​​ qualify for the Honors Program, you must meet the following requirements:
Meet BOTH requirements:
1) Cumulative college GPA of 3.25 or higher,
2) Completed 12 college units
Meet ONE of these requirements:
1) High School GPA of 3.25 or higher,
2) Cumulative GED score of 3400 or higher
Contacts
HONORS COORDINATOR Contact
Guadalupe Alatorre
Honors Coordinator
Office: T-314 A
Honors Office Hours:
Wed., 1 pm - 2 pm, T-314
Student Hours:
Tues. 8 am - 9 am, Wed. 12:30 pm - 1 pm, & Thurs. 2 pm - 5:30 pm
(408)298-2181 Ext. 3303
Visit and enroll via Canvas: https://sjeccd.instructure.com/enroll/F6KKMJ
DIVISION Contact
Humanities, Social Sciences, and Arts Division
FAQs
Do the following at the beginning of the academic term:
Fill out an Honors Program Planning Contract for each class in which you want to do an Honors Project.

Speak with your instructor about the project you wish to complete. Complete the contract, outlining your project, and get the instructor's signature.

Submit the contract by email to the Honors Coordinator. You will receive a confirmation email with a copy of your contract, signed by the Honors Director.
Do the following at the end of the academic term:
Complete your project and submit it to your instructor. Sign the "Completion" portion of the contract with your instructor and submit to the Honors Coordinator.
Students who complete at least 6 units of work each semester with semester GPA of 3.50 or better are recognized for academic distinction by a notation on the semester grade report and transcript.
Typically, the Honors Program notation will be entered to your transcript 3-4 weeks after grades are posted. Check your unofficial transcript. An asterisk (*) will appear next to the Honors course(s). Although you cannot see the text "Honors Program" on your unofficial transcript, the asterisk (*) indicates that it will appear on the official printed copy.
Having the "Honors Program" designation on your transcript for one or more classes will make your application more competitive for transfer to the UCs and CSUs. If you complete 9 or more units in the Honors Program, you will also receive an Honors Program medallion at graduation.
No, an Honors designation has no bearing on your GPA.
Most commonly students will do an additional research paper and/or class presentation for their Honors Project. Depending on the course or topic, some instructors will allow a creative project (such as artwork, video, etc.). We recommend approaching your instructor with an idea for a project/topic in mind already.
You can complete contracts for as many or as few classes per semester as you like. If you do not submit a contract in a given semester, you are not removed from the program, but you also do not benefit from it that semester.

For sixteen-week courses, applications and planning contracts are due by the third week of classes. For all other courses (eight-week, ten-week, twelve-week courses), applications and planning contracts are due by the first week of classes.

No, Honors planning contracts are not accepted for the summer or the winter terms.
A class is transferable if it is accepted for transfer by CSUs and/or UCs. You can check the course information in the College Catalog for the transferability. Look for the "Transfer Status" note under the course description.
Phi Theta Kappa – To qualify, a GPA of 3.5+ is required.
If you submit a contract, but are unable to complete the project, please notify the Honors Coordinator stating that you are withdrawing your contract. There is no penalty for withdrawing your contract.